From now through September 11, you can save 20% on EVERYTHING at Abe's Market! Just click here and use the promo code "MEGHAN" at checkout! (Also: All orders over $29 ship FREE!)
If you're unsure of what types of products Abe's sells, I'll share with you one of my recent orders…
My order included: Two Way Out Wax Candles – "Cozy Home" and "Northern Forest" (LOVE these scents! They're made with non-GMO soy wax and natural essential oils.), Babytime! by Episencial Mighty Shield (all natural bug repellent) and Snuggly Lotion (vegan moisturizer with cherry butter — love this stuff for my girls!), and Common Good Lavender Hand Soap & Lavender Glass Cleaner (non-toxic, plant based formulas with natural essential oils).
That's just a little sampling of the kinds of stuff Abe's offers. They have a TON of vegan & gluten-free food/snacks/beverages, baby products, eco-friendly clothing, accessories, and sooo much other good stuff!
But wait — There's more! 😉
Abe's is also offering my readers a FREE E-book of Superfood Breakfast Recipes! The gluten-free, vegan-friendly recipes include granola, smoothies, pancakes, and more! Yum! Just click the photo below to download it for FREE!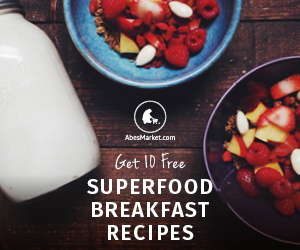 I LOVE Abe's Market! (I really do!)
---
Wait! There's More Subscription Box Goodness!
Disclosure: I received these products for review purposes. I was not compensated in any way. All opinions are my own. Post contains affiliate links.