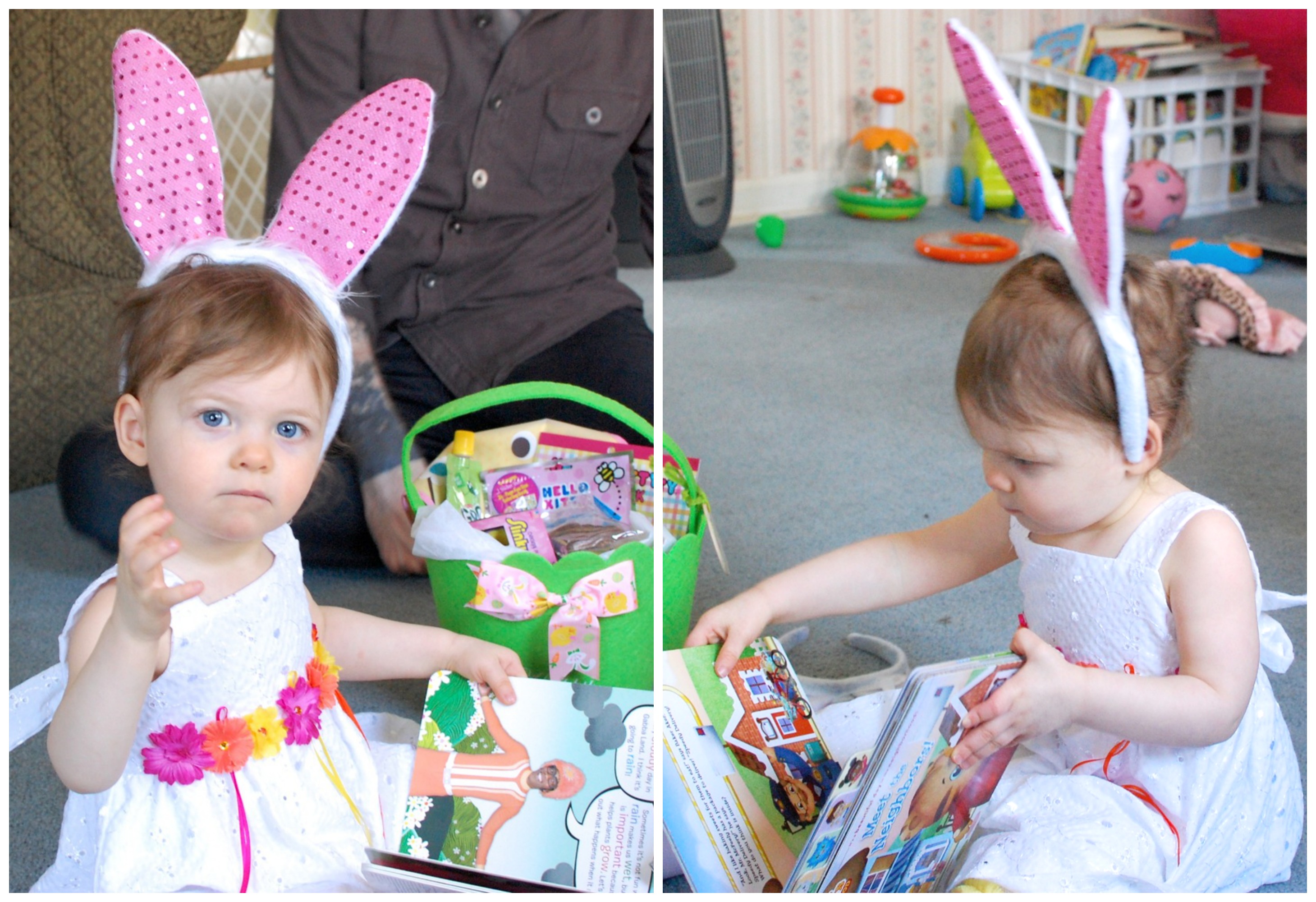 Easter #2 with the Rosebuds! If these dresses look familiar, they might be the same ones they wore for their first birthday back in August. (Shhh… Don't tell 'em!)
This year was a little more exciting, since the girls are into actually playing with things now. It also helps that they can sit up on their own and no longer spit up all over themselves. Woohoo! Progress!
Chloe started the morning with pigtails…
…they disappeared shortly after these photos were taken. 🙁
Ev was a trooper and kept hers in tact all morning. Yay, Evie!
As expected, their very first Daniel Tiger book was a big hit.
I don't think Chloe bothered to look at any of the other goodies in her basket.
(Actually, I just realized she had Ev's basket — hence the big "E" tag — Oops!)
Evie wasn't too impressed with the weird looking Foofa plush I scored on Amazon for like 99 cents (shipped!).
C'mon Ev, appreciate my good deal! Yeesh.
Chloe was hogging the Daniel Tiger book a little too long for Ev's liking…
After a little negotiating (and crying on Chloe's part), Ev got her turn.
Yo Gabba Gabba book to the rescue! Muno makes everything better.
Ev wasn't sure how she felt about some of her new things…
Chloe just sat and watched her disapprovingly. (Cos why not.)
Eventually Ev warmed up to her new wand, though she thought the price tag kinda took away a bit of the magic.
Chloe was downright appalled by the price tag situation.
Good thing those goldfish didn't have one.
I think next year the bunny should just bring them library cards.
And a new, (blog-friendly) updated living room for mommy.
(Bunnies bring that stuff too, right?!)