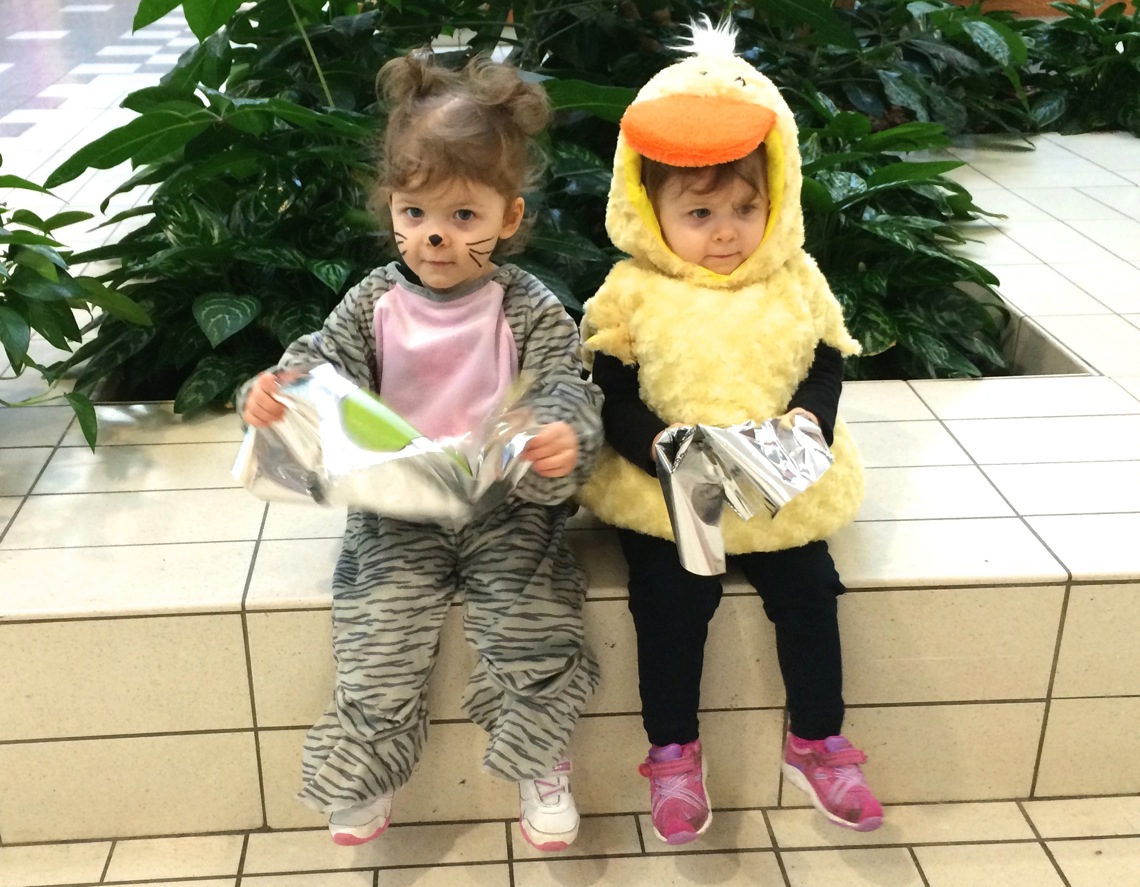 Once again, the forecast on Halloween night called for rain showers and high temps in the 40's. (Every. Freakin'. Year.) Thankfully, we had a back-up plan: Mall-o-Ween!
For a $2 donation, the girls got to Trick-or-Treat around the whole mall without having to worry about their fur/feathers getting soggy. Yay!
On the way to the festivities. Clearly, they were excited.
At the mall, bags in hand… Still totally enthused.
Duck butt and kitty, waiting for the festivities to begin…
…more waiting.
I don't have any photos of the actual trick-or-treating because it got kinda crazy once zillions of kids started swarming the treat tables. The girls did awesome though, and aside from a certain yellow duck needing to be carried a few times, it was definitely a success.
Yesterday, while the girls napped, I carved their pumpkins. Evie's featured her bff, "Wanda" the plastic wand and Chloe's had a pumpkin version of "Kitty", her…well, kitty.
Happy kitties everywhere this Halloween.
---
These were taken last weekend, but they fit the Halloween/autumn theme, so… here they are. The girls' first "real" time playing in the leaves. (Not the best exposures on some, but full of autumn-y goodness nonetheless.)
"Leeeaves!"
"Leeeeaves in my haaands!"
"Leaves in my faaaace!"
Leaving the leaves alone for a sec…
…Chloe took a moment to reflect on her choices for the upcoming election…
…while Evie discovered a couple sticks.
Okay, back to LEEEEAVES!
A (blurry) good time was had by all.