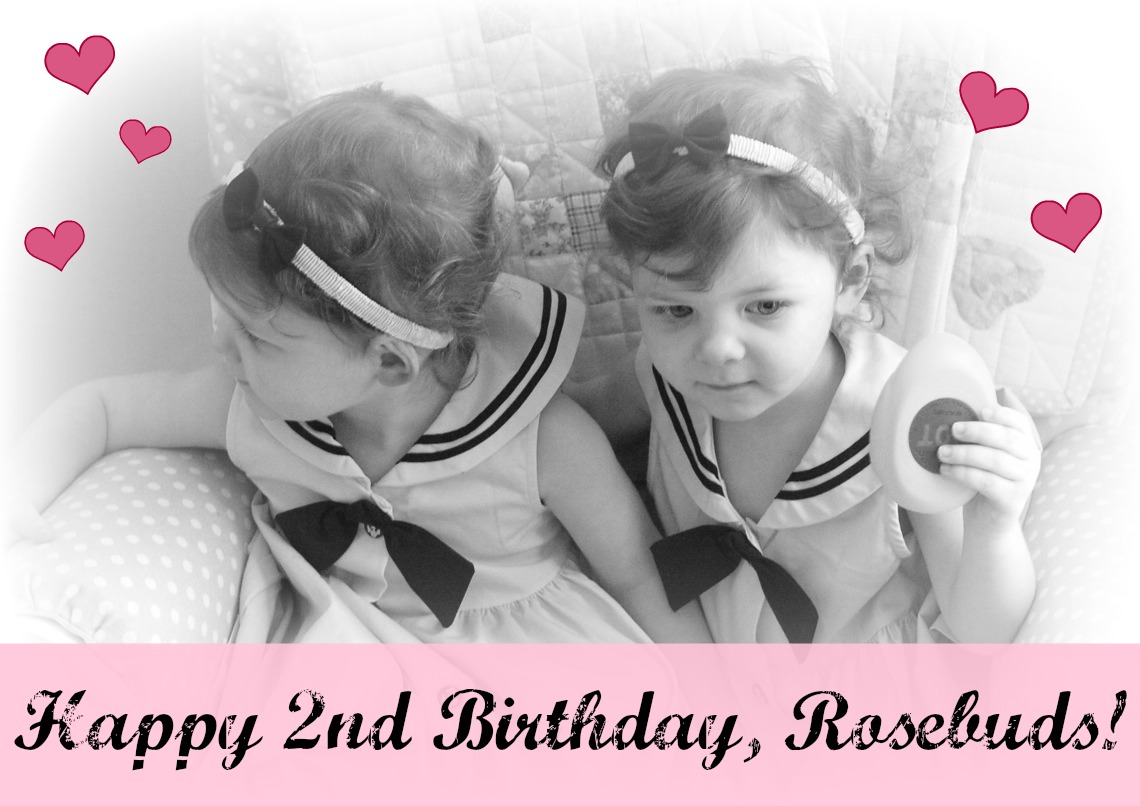 Yep, today my two little rosebuds turned TWO! — Where did the last 12 months go?! When people tell you how time goes by fast when you have kiddos, they're not kidding. Zooooom!
We had a little party yesterday with close family and plenty of "Yo Gabba Gabba" decorations. I made vegan cupcakes with orange frosting (to match DJ Lance's hat, duh!) and star-shaped sprinkles. The girls got an insane amount of gifts and I made a big mommy "oopsie" by deciding to open the cards after the party… Meaning I had no way of knowing who bought which gift. Uggghh. I didn't realize what a bad move it was until after everyone went home and I felt like a total turd for the rest of the night. (I am SO not good at social functions in general, let alone kid's parties. Eh, there's always next year, right?)
Here's a few photos I snapped of the girls pre-party (before they had a chance to totally junk themselves up with frosting and whatnot). I've come to learn that the older they get, the slimmer the chance of them sitting next to one another for a photo… Or for anything.
Ev was pretty psyched about turning 2.
Chloe? Well… Not so much.
(I think she just wanted Ev to get the heck outta her crib.)
Evie didn't appreciate Chloe's attitude…
…but she got over it fast when she remembered "OMG I'm 2!".
Chloe refused to let go of her smirky lil' 'tude.
(…and her kitty & ducky.)
Ev took to the window to have a peek outside and enjoy the breeze of the fan.
Eventually they "agreed" to both sit on the chair together for roughly 0.83 seconds. 😉
Not surprisingly, this is the best clear shot I could get.
Toddlers sitting still? Nope, doesn't happen.
Happy Birthday, Evie & Chloe!