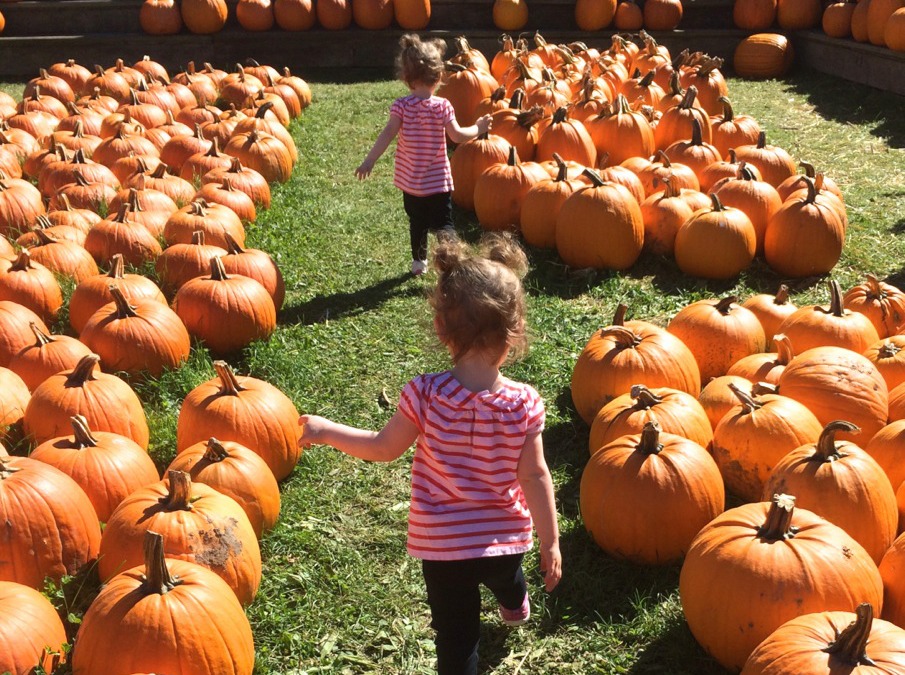 Yay! It's finally October, which means it's also… PUMPKIN TIME!!
Last weekend (technically still September, but what-evs) we took the girls and drove down to The Great Pumpkin Farm. It was nearly 80 degrees, cloudless, and FAR from the ideal crisp autumn day that I had hoped for. (I even managed to get a flippin' sunburn. Ugh.) Non-traditional weather aside, we had a pretty good day — or as close to a good day as you can get with 2 hyperactive, meltdown-prone two-year old twins.
Hayrides were ridden, fried dough was eaten, ducks were quacked at, and one out of two faces were painted. We'll call that a win!
E was the good girl who sat patiently while some lady painted a pretty pink flower on her cheek.
C was… the other one.
SO many pumpkins!
(I'm kinda bummed at how the pictures turned out since I just used my iPhone, but there was no way I was lugging around my SLR in the heat and craziness of that place. No ma'am.)
C enjoyed looking through the cut-out scarecrow guy.
E seems to have mistook it for a guillotine.
Shadow family.
I love this photo for 2 reasons:
1. The weird/creepy look on C's face.
2. The even creepier "claw/severed hand" shadow on the pumpkin to her (our?) right.
Tractor-led hayride in the blazing sun.
Pumpkins everywhere!
E and a "Quack-quack-quack!"
C just hangin' on the steps with some pumpkin friends.
Aaaand it's officially past naptime… Pumpkin Farm, OUT!