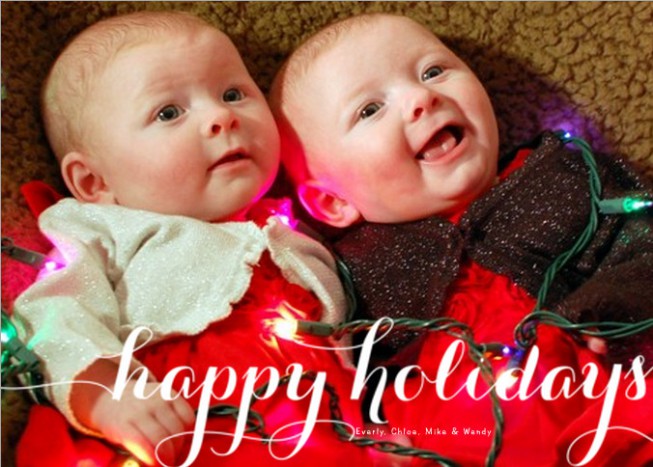 Fun Fact: Four-month old's can't sit up on their own. (Unless they're over-achieving little freaks.)
Fun Fact #2: Four-month old's have the attention span of a turd. (Yeah, I realize that turds don't have brains,  but just humor me…)
Therefore: Four-month old's are really friggin' HARD to photograph. (Not to mention when said four-month old has a clone. A non-sitting, ADD-having clone.)
But… it's Christmas! We NEED the perfect holiday photo of our little ones!
Why, yes. Yes we do. So let's add a little spice to the mix: 2 fancypants holiday dresses (just begging to be spit-up on), baby tights (so loose that they'd probably fit ME), and a colorful string of ultra-distracting Christmas lights. Great! Now you're ready to take the most adorably festive Christmas baby pictures the world has ever seen! Or… not so much. Please refer to Fun Facts 1 & 2.
Unless you're a professional photographer, and/or the most patient person on earth, you're gonna have to scrap your plans for "Most Perfect Baby's 1st Christmas Photo EVER".
Sorry to crush your dreams, but here's what to expect:
Your plan: You'll prop your baby (babies in my case) up into a pseudo sitting position on the couch. They'll look so cute & grown up sitting there in their fancy outfits!
Reality: If they're not able to sit on their own yet, good luck faking it. Chances are, they'll slooowly slide down into an unflattering, double-chin-exposing position, or simply fall forward face-down onto the cushion. Cute!
Your plan: You'll buy the *perfect* Christmas outfit — sparkly accessories and all! They'll love looking so fancy!
Reality: Baby clothes can be a bitch to put on and rarely fit right. Baby tights labeled "0-9 months" will NOT fit the average 4-month old. Cute accessories just means more work for YOU and let's face it — the babies really don't give a shit.
Your plan: You'll use fun props, like Christmas lights, to make the photo extra festive! Plus, it'll keep the baby's attention so they won't be distracted by other things in the room.
Reality: Sure, it looks cute, but the babies aren't interested in what's right within grabbing distance. They want to look at the lamp you're using to light the scene. Or the ever-thrilling white ceiling above them. Anything that's not in the direction of the camera.
Your plan: Both babies (if you happen to have two) will look sweetly at the camera and be still/close enough to both be in focus. It'll be the cutest thing EVER!
Reality: Haha-freaking-ha! One baby is hard enough… Getting TWO tots to cooperate is next to impossible. There will be a TON of shots with one perfect, smiling baby and one blurred-out ghost-looking baby. SO. FRUSTRATING. I suppose you could photoshop the better ones together, but I like to keep it real, yo.
So there you go. Still up to the challenge? Keep in mind, I didn't include the meltdowns, frequent breaks to wipe up drool, or obsessing over ISO settings & aperture adjustments. Fun times!!
Without further ado… Here is my not-so-perfect "First Christmas Photo", as used on our holiday cards: