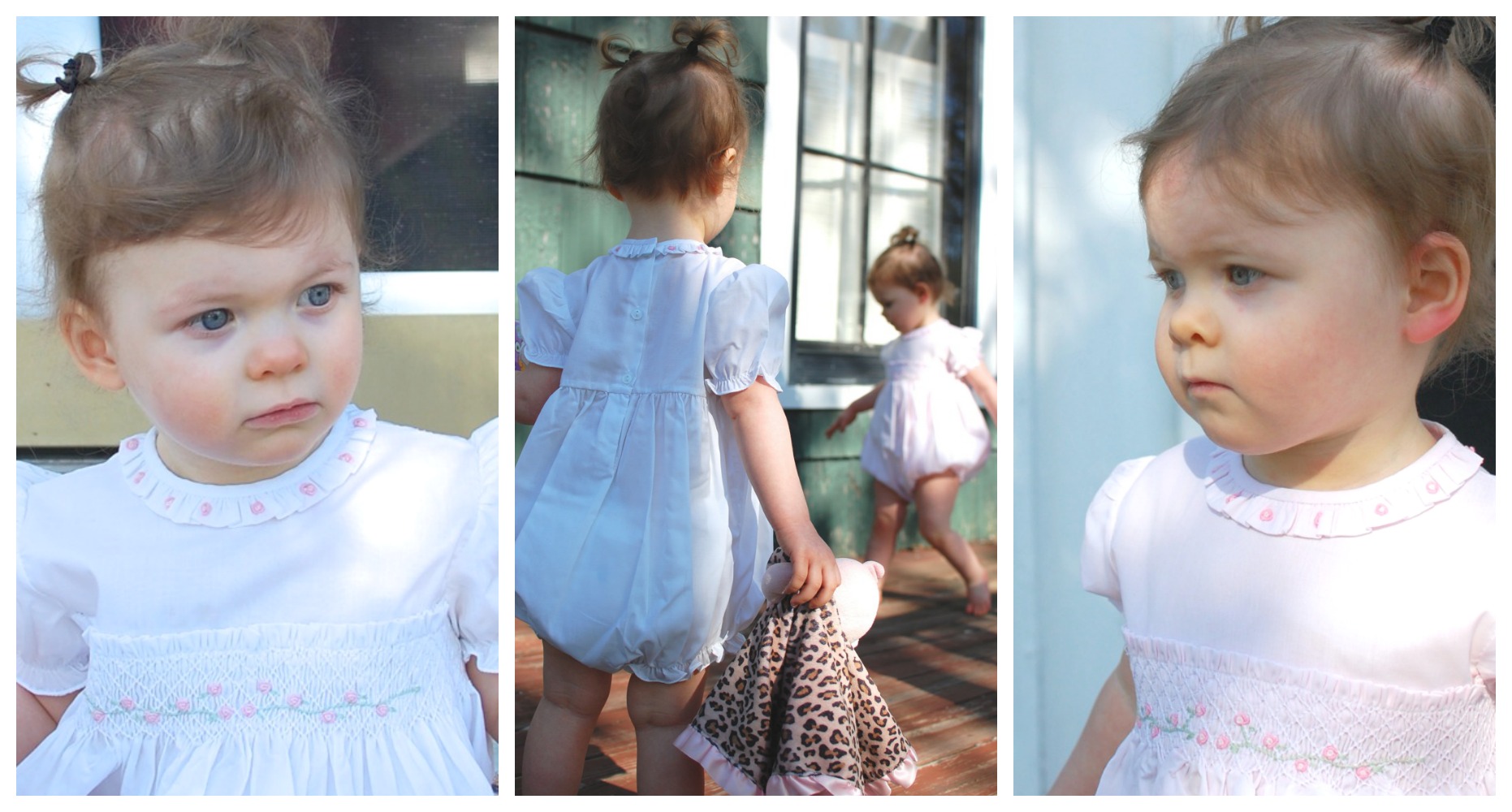 Mother's Day #2 turned out pretty nice, despite having absolutely nothing planned for the day. Hurray for spontaneity!
I had received two adorable outfits from Feltman Brothers a couple weeks ago and decided that Mother's Day would be the perfect day to try them on and do a little photo shoot on the porch. (You can read more about Feltman Brothers here). Grumpy faces aside, the girls looked stinkin' adorable in their little vintage-inspired, hand embroidered bubble rompers. Love them!
After taking roughly five gazillion photos, we had dinner and my husband gave me a Mother's Day coupon book that featured a one-hour massage at the spa/parlor thingy of my choice. Woo! Once dinner was over, we decided to go out for ice cream (well, lemon ice for me). We drove to 2 different stands that were way too crowded (damn you, free Mother's Day sundaes!) and eventually ended up at Trader Joe's so I could buy myself a quart of cherry chocolate chip soy ice cream. Mmm.
Oh, we also watched "Flowers in the Attic" on Netflix in the afternoon while the girls were napping. For some reason I thought it was based on a true story(?). Quite a disturbing (and poorly acted) movie. What's up with the teenage brother giving his equally teenaged sister help washing her back in the bathtub? Uh… No.
Okay, here's some shots of the girls in their "Mother's Day best". 😉
Chloe insisted on holding her kitty and bath book(?!) throughout the whole "shoot". Kids.
Evie left her favorite toy inside ("Wanda", her yellow wand).
She looks incomplete without it. 🙁
She tried to get her mind off of dear Wanda by dancing with her shadow.
Hey, whatever works.
Chloe didn't make things any easier for Ev by constantly flaunting kitty around.
Poor lil' Wanda-less Ev.
I told them they had to pose next to one another and pretend to get along…
…Chloe wasn't too happy about the news.
Evie happily rushed to sit on the stairs with her sister…
…until she remembered that Chloe had her friends but she didn't have Wanda.
…so she quickly bailed.
A girl can only take so much.
Photoshoot — OVER!
Disclosure: I received the Feltman Brothers outfits for review purposes. I was not compensated in any way.