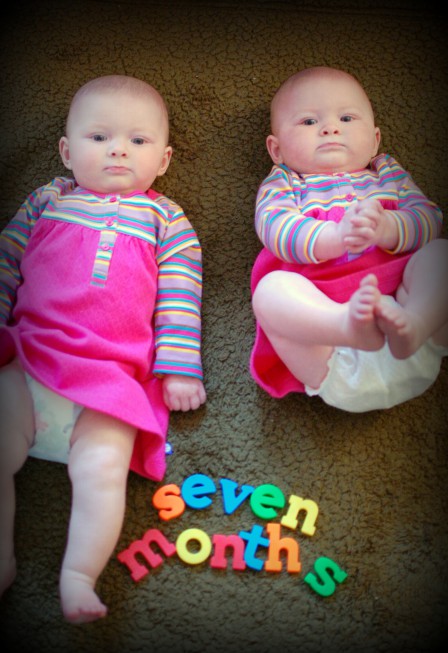 Wow — where did the last month go?? I feel like I just posted their 6-month photos yesterday. Damn you, February! Way to be shorter than the rest of your friends. Pssh.
The girls are now 7 months old. 7 months!
What happened to those teeny pink babies that we brought home? The scrawny, wrinkled bodies that we were so afraid of breaking… Those long, skinny arms and legs that reminded us of ET (sorry girls!)?
They've come a long way from those fragile, 4-pound new baby days… No longer do they just lay around, occasionally treating us to little goat-like cries.
These days they can babble, roll, and laugh. They tug at daddy's beard and play with mommy's jewelry. They jump in their bouncer like they've been doing it for years. They eat cereal. When placed on their back, they strain their necks to try to sit up. They refuse to sit still and squirm in our arms like no one's business.
It's only a matter of time before they're mobile. They want it so badly. Then the real fun will begin… Yikes.