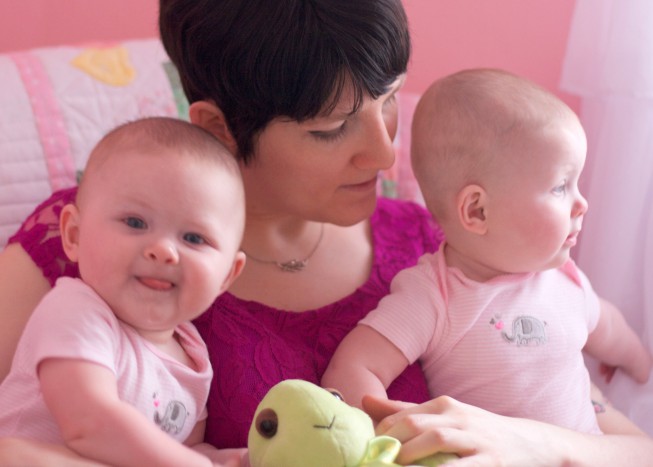 Well, that was fast.
Tuesday marked my big one-year blog anniversary. Needless to say, I had quite the party. What? You weren't invited? Man, you totally missed out then. Martha Stewart went all out on my rosebud-themed decorations & fancypants 5-course vegan dinner. Oh, and my dear friend Oprah surprised all of my guests with pink-hued cars of their choice. Good times.
So yeah, as you can imagine, a lot has changed since my very first blog post.
Remember this? (Mike edited it a bit since the last posting):
Clearly, I've had my little rosebuds. That whole "getting them out of me" thing was no fun. Nor was the pain/constipation that followed. Not being able to poop is no joke.
Speaking of poop, double the babies means double the crap. Literally. I've changed more poopy diapers than I could have ever imagined… and it's far from over. Wanna know exactly how many diapers I've changed? (Of course you do!) Welp, you're in luck, cos there's an app for that!
According to "Baby Connect", I've changed a total of 1281 diapers since August. — But wait! There's more! That's only for Chloe. Little Everly produced 1289 bundles of goodness. So, in the last 7 months, Mike and I have changed at least 2570 dirty diapers. Holy. Crapola.
I never thought I'd get used to something as unpleasant as changing a diaper, but I have.
I also never thought I'd be able to suction boogers out of a baby's nose without gagging.
Or get peed on and not freak out.
Or laugh while someone's pooping on me.
Or love someone SO DANG MUCH.
I'm a totally different person than who I was a year ago. Sometimes it doesn't feel like it, and I have to remind myself that "I have babies!!". But yup, I'm a freakin' MOM now. I created LIFE. No, I created TWO LIVES. At once! How awesome is that? (Pretty daaamn awesome.)
As someone who's never been the "mothering" type, who's never been comfortable around babies, it's hard to believe how much I'm digging this new role. I love being a mom. It's truly the best thing I've ever done. And as trying as the days may be, with teething/feeding troubles/middle-of-the-night freakouts… It's all so, so worth it.
Their existence, just the fact that they're here, brings more joy than I ever could have dreamed.
Almost forgot — Here's the third installment of "2 weeks in 2 minutes". Enjoy!