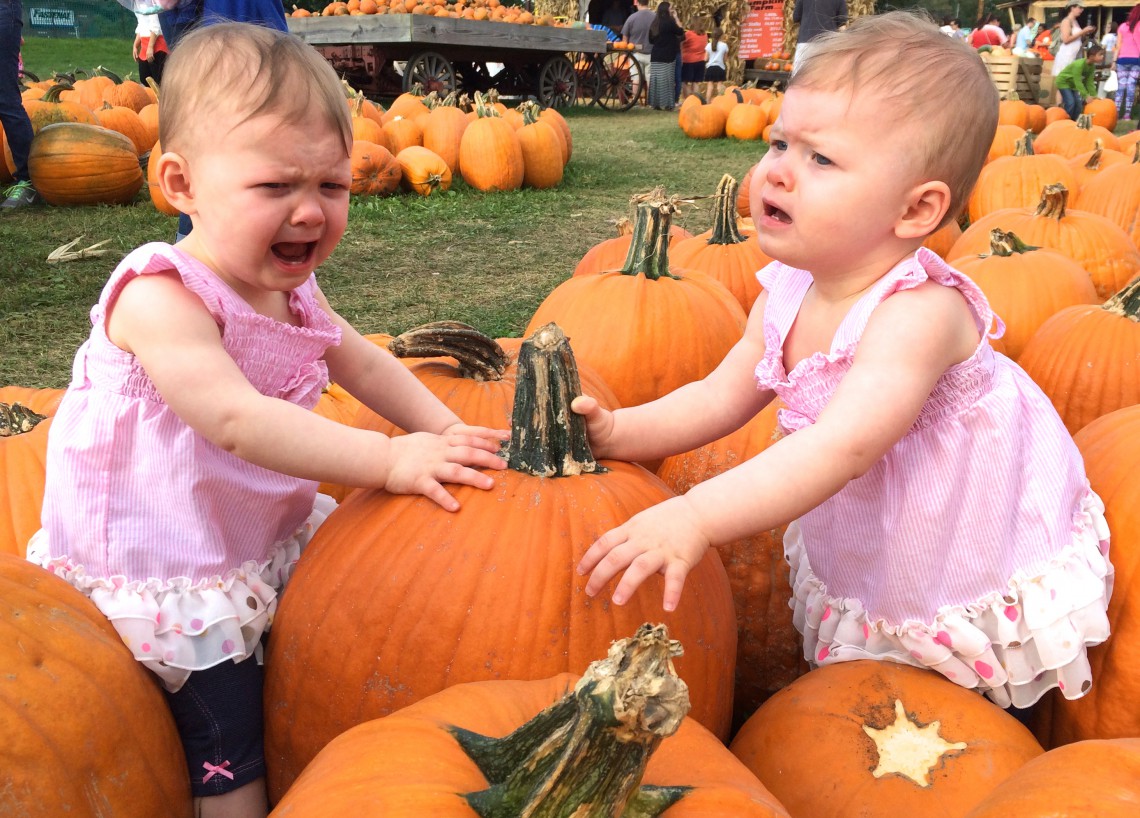 Every year, since Mike and I have met, we've gone to the The Great Pumpkin Farm. It is thee ultimate "autumn fun times" destination in Western New York. Pumpkins, tractor rides, cider, face painting, corn mazes, carnival food — this place has it all.
Last year, the girls were only 2 months old when the festivities went down, so Mike & I took the trip sans kiddos. I felt guilty not taking them, but they were way too small to truly appreciate the autumn-y awesomeness. This year they were thirteen months old. Surely they were old enough to enjoy a fun day at the Great Pumpkin Farm. Surely! Uh… yeah… not so much…
The great expectations I had for our carefree, memory-filled day were a far cry from what really went down. Thus, I bring you…
Taking 1-Year Old Twins to a Pumpkin Farm:
Expectations vs. Reality
Expectation #1: I'll bring my DSLR and take a ton of a-mazing photos of the girls in cute, seasonal autumn attire. I'll have trouble choosing which one I wanna frame… They'll be THAT good.
Reality: It was hot as hell for late September. We had the girls in cute little flannel jumpers with matching tights, but (sadly) changed them into summery outfits right before we left the house. Oh, and there was NO way I was gonna carry my heavy, cumbersome DSLR on such a hot day. EFF that. (All photos taken with my iPhone.)
Yep, that's certainly a camera phone photo… Nope, that's certainly NOT an outfit that screams "autumn fun times!".
Expectation #2: The tractor ride will be a great opportunity to get a cute family portrait of the 4 of us enjoying the day together. Weeee!
Reality: I'll just let the photos speak for themselves…
That was the closest I got to getting all 4 of us in the shot together. And yeah, that would be my hand/finger(?) on the left. Frame-worthy, it is not.
The majority of the photos looked like the one above. Goofy faces, fingers in mouths, Dwight Schrute hair… Not exactly what I had in mind. Wah-wah.
Expectation #3: The girls will have such a fun, memorable day! Pumpkins! Hayrides! Face painting! Yay!!
Reality: They're one year olds… They got cranky right after the hayride, they didn't care about the zillions of pumpkins, and they most definitely won't remember shit about the day. Oh yeah, and the face painting station closed riiiight as we walked up to it. (Not that they would have sat still long enough to actually GET their faces painted.)
Expectation #4: I'll get SO many cute photos of the girls posing with pumpkins. Contest-winning photos, for sure!
Reality: Um… No. Again, they're ONE. They didn't know how to "pose". Nor did they both smile at the same time, while looking at the camera. When propped against a pumpkin, they freaked the EFF out. Nope, we will NOT be winning any photo contests this year…
So, yeah… Maybe next year?