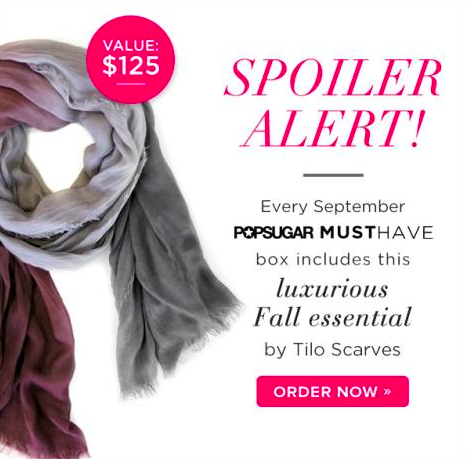 POPSUGAR – Okay, this isn't a *new* spoiler, but it's good enough to mention again! 😉 September's Popsugar Must Have Box will include a "luxurious Fall essential" by Tilo Scarves — a $125 value!! Considering the box is only $39.95/month AND you can get $10 off just by using the promo code "BJB10" (or try MUSTHAVEYT.
If both codes don't work for you, you can still save $5 with "MUSTHAVE5"), this is an insane deal — and this is just one of the items that'll be in the box! If you've been thinking of signing up, NOW is the time!
IPSY – All September Glam Bags will include either a Pacifica Natural Waterproof Eye Pencil, or a Pacifica 7-Free Nail Polish! (I'm hoping for the polish!) Ipsy is just $10 a month and ALWAYS has an amazing value (usually at least $30 in products!). Sign up or here to read my reviews!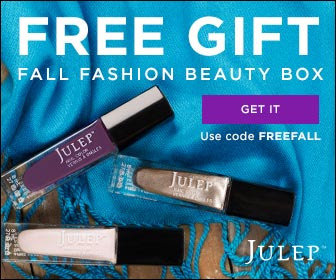 JULEP – (*Kind of* a spoiler!) New subscribers can get a FREE Fall Neutrals limited-edition seasonal box that includes 3 gorgeous nail colors and a best-selling product. New Maven subscribers get this 4-piece set, valued at over $60, for FREE when they sign up for Julep Maven. Just click here and enter the promo code "FREEFALL" at checkout!
CITRUS LANE – Certain age groups got a chance to customize one of their items for September's box. (Sadly, our wasn't one of them.) However, I do know that younger kiddos had a choice of Tea Collection Bodysuits (you get to choose the size 6-12m, 12-18m, or 18-24m). Older kiddos (20-24 months or so?) got to choose from Bumkins Snack Bags (design, size). Even older kiddos (44 months & up?) got to choose from different Creativity for Kids Mini Creativity Cans.
Remember — You can still get your first box for just $9 by using the promo code "TAKE20OFF". (I'm not sure when that code expires, but if it doesn't work, you can still get 50% off your first box!)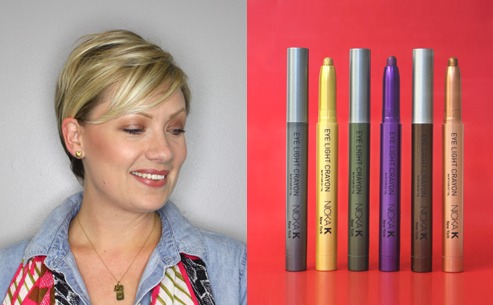 BEAUTY BOX 5 – TWO spoilers have just been released for September's Beauty Box 5 box! Every subscriber will receive a FULL SIZE Nicka K Eye Light Crayon and a FULL SIZE My Beauty Spot Nail Polish! For a limited time (until 9/21/14), get your first box FREE when you click here and enter the promo code "AUGUSTFREE" at checkout!
GREEN KID CRAFTS – Green Kid Crafts' fall themes explore Weather Science, Legends and Folktales, and DIY Gift Making with fun, educational activities and experiments that align with national standards.
From now until August 31st, GREEN KID CRAFTS is offering new subscribers $10 off their first box (a 50% savings)! To score this limited time deal, just use the promo code "BACK2SCHOOL10" at checkout. You'll also receive FREE bonus welcome materials and activities!
---
Wait! There's More Subscription Box Goodness!
Disclosure: Post contains affiliate/referral links.