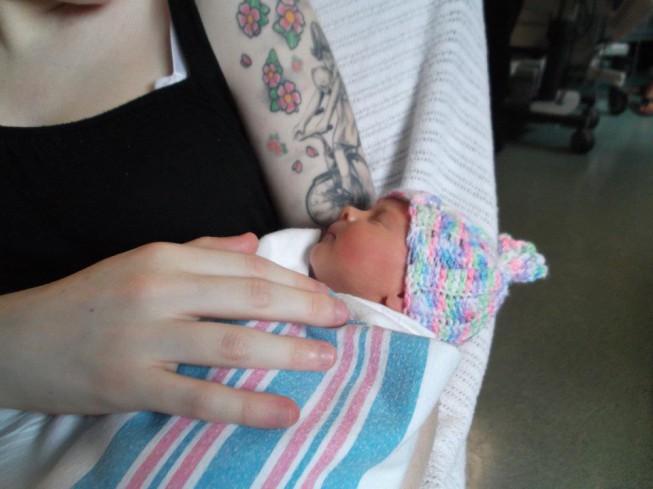 The girls are currently sleeping snug as lil' bugs in their Pack-n-Play, so I'm taking advantage of a little "free time" to type up their birth story… (But something tells me I'm going to be writing this in more than one sitting.)
Ok, where to begin…
I guess it all started on July 31st, while at my high risk specialist appointment. My blood pressure was highly elevated and I was told to contact my obgyn. I had already scheduled an appointment for 2 days later, on August 2nd, so I figured I would just wait until then to inform my doctor. That is, until I took my blood pressure at home and found that it was 180-something over 100-something (translation: wicked high). I called my Dr. and she told me to go to the hospital to get checked out. This was on Wednesday, August 1st. We went there, got blood drawn (ahhh!) and urine samples taken, then was sent on my merry way. No idea why they didn't keep me there longer.
The next day, on August 2nd, I went to my scheduled obgyn appointment. My blood pressure was taken (still super high) and I was instructed to go to the hospital (a different one) to get monitored for 24 hours. This part was a nightmare. After many failed attempts at trying to lower my blood pressure, I was finally given an IV and put on magnesium to prevent me from having seizures or a stroke (scary!). The meds burned like hell as they went into my arm and I immediately started crying. I guess this is where I hit my breaking point. I was in pain and terrified of what was to come. Thankfully, the babies never showed any signs of distress throughout all of this chaos, which was a huge relief.
After what seemed like days of being pumped with magnesium and feeling like I was hit by a truck, a doctor came in around midnight on August 3rd and told me they were going to proceed with the c-section. I was both relieved and terrified all at once — relieved to finally be put out of my misery and get those babies out, but terrified at the prospect of getting my guts cut open.
Soon, two nurses came in and shoved a catheter in me — this part was awful and the nurses were far from compassionate. I was in a ton of pain and they were just plain cold as they did their business. Not cool.
Shortly after my visit with the nurses from hell, Mike said goodbye and I was wheeled into the operating room. I was picked up and placed on the operating table, where they had me sit on the edge and arch my back like a cat while they inserted the spinal block. To my surprise, the spinal itself didn't hurt all that much — the worst part was trying to bend over/arch my back with such a big belly and all that nasty magnesium coursing through my body.
Once I was all numbed up, which didn't take long at all, the procedure began. I honestly don't remember much about it, aside from being weirded out about not feeling my legs and grossed out hearing all of the stuff being suctioned out of my body. Oh, and tons of pulling and tugging. And f-bombs being dropped by the doctors behind me (Mike couldn't believe how unprofessional they were).
I was pretty out of it and had my eyes closed the whole time, but when I heard little Everly cry for the first time, I knew everything was going to be okay. I don't know how long I was in there, but Mike said it seemed to take forever to sew me back up.
The next 24 hours were pretty much a blur. I was still on magnesium and really can't remember anything about the first day of the girls' lives. I didn't even get to see them until the following day. My first glimpse of my babies was via some photos that Mike showed me on his iPhone. I was upset about this at first, but now I realize that even if I did get to see them, I probably wouldn't have remembered anyway. I was that out of it.
Despite being born at 34 weeks & 3 days, the girls were well-developed and healthy. They only spent about 3 days in the NICU. Everly needed a little bit of oxygen for a while and Chloe needed help regulating her temperature. The strength they showed was amazing. They were in open cribs within a couple of days, and by August 6th they were in our room with us. The following day, we all went home together.
I celebrated my 34th birthday in the hospital (on August 5th), and despite still being in a ton of pain, it was the best birthday I've ever had. Two days earlier I had been given the best gift anyone could ever ask for — 2 perfect little miracles. What more could I ask for?