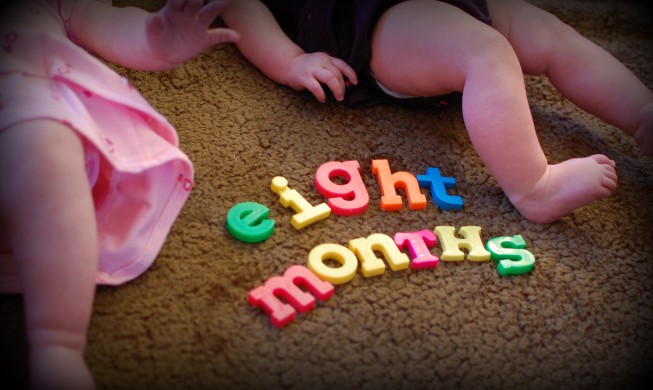 Yesterday the girls turned 8 months old.
In-sane.
How did this even happen? Where did my teeny little babies go?! Ahhhh!!
In keeping with tradition, I took their monthly "sit on the couch/lay down with letter magnets" photos yesterday afternoon. But I also took some shots of them in their nursery, pre-bath. Both sets produced a few keepers, so in true "proud mamma" fashion, I'm going to share both of them. However, I won't totally bombard my poor readers with a gazillion baby photos at once. (You're welcome.) I'll save the nursery photos for another post.
Soooo here's the "usual" (boring?) shots:
——————–
And here's the "Late March 2013" edition of "2 weeks in 2 minutes":
(It was more like ONE minute, but eh… what can ya do…)
——————–
*cos 7 8 9.