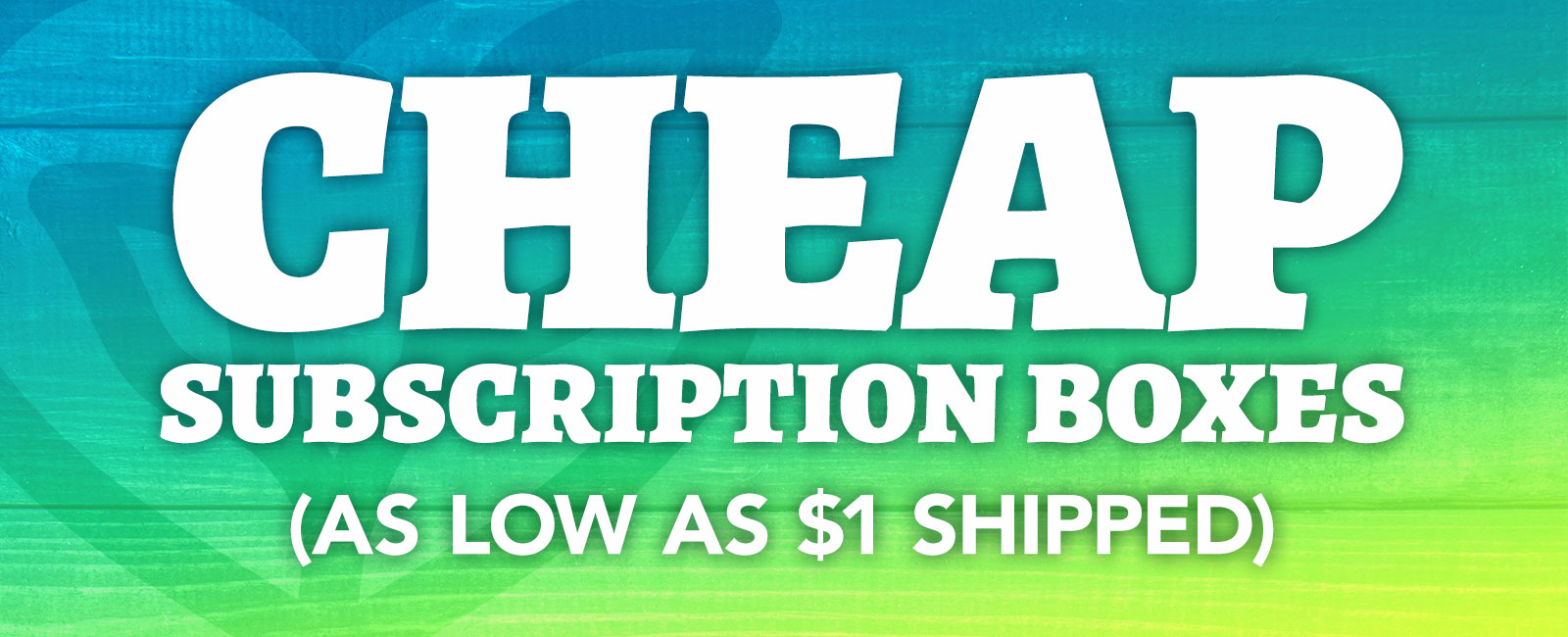 Below you'll find a full list of subscription boxes that offer deep discounts just for trying them out — some as low as $1 shipped! There are also plenty of cheap boxes available which only cost $5 to $10 every single month without even needing a coupon code. If you're looking for seriously cheap subscription boxes — at least 50% off or better, you've come to the right place! 🙂
And for even more great deals, be sure to check out my list of FREE Subscription Boxes.
Note: ♥ = Awesome deal, don't miss out!
Last updated: 11/3/2017
Disclosure: Subscription box coupons and discounts subject to change at any time. Post contains affiliate/referral links.
---
Dollar Shave Club is an affordable subscription that promises to deliver "a great shave for a few bucks a month".
---
For a limited time, you can get 3 months of Epic! for just $1! — That gives you 3 months of unlimited access to over 25,000 children's books and videos for only $1. (Regularly $4.99/month)
---
♥

 Hair Tie Society
Plans as low as $1 every month
Hair Tie Society sends you high quality bobby pins and hair ties for as low as $1/month. No coupon code needed.
---
♥ 

Dollar Coffee Club
Fresh whole bean or single serve coffee as low as $1/month
Dollar Coffee Club sources coffee from around the world allowing you to try new and unique brews. Whole bean and single serve options are available.
---
Get cute postcards send to your child for just $3.99/month. — One of the most affordable monthly subscription boxes out there.
---
♥

 Love With Food
Get your first Deluxe Box for $11.95 shipped ($8 off!)
---
♥ 

Dollar Jimmy Hat Club
Name brand condoms for as low as $1/month
Dollar Jimmy Hat Club is a monthly affordable and discrete condom subscription service making safe sex easier than ever. Plans start as low as $1/month.
---
♥

Degustabox
First box just $9.99 shipped
Degustabox is a subscription box that sends an assortment of food and drink products to your door every month.
---
SpaceMail Pal is a subscription service designed for children to "explore space through the magic of mail".
---
♥ 

Squix QBox
Get a trial box for just $2.99 (up to $45 value)
Squix QBox offers a customizable monthly box of 3 full size natural cleaning products and household items for just $14.98/box. Every box also includes a free gift valued up to $10.
---
Barks Bandana SwagBag
Cat or dog accessory box from $6 every month
Each SwagBag will include an over-the-collar reversible bandana, as well as a sample of all natural/human grade treats from Beaverdam Pet Food. The bandanas are all handmade and will often be designed around the current season or upcoming holiday.
---
♥

 Graze
$11.99/month & first box FREE
Graze is an affordable snack subscription that you can have delivered right to your home or workplace for just $11.99 per box (shipping included).
---
♥ 

Glossybox
Get your first 3 months for $10/box
Glossybox is a monthly beauty subscription box that sends 5-6 deluxe sized samples packed inside a super sturdy, reusable box. The packaging is top notch and only the highest quality brands are included.
---
♥ 

BookCase.Club
Get a selection of books for just $9.99 every month
BookCase.Club is a monthly subscription box that sends you a selection of handpicked books in the genre of your choice. There are currently 8 different genres to choose from including Mystery/Thriller, Romance, Sci-Fi/Fantasy, Cookbooks, and Children's. Each box will consist of two carefully handpicked titles, with the exception of the Children's subscription which includes four books.
---
Candy Club
50% off your first month plus FREE shipping
OR double the candy at regular price
Candy Club is a monthly subscription box that brings the candy store right to your door! When you subscribe to Candy Club, you'll receive a box crammed with up to 3 pounds of assorted candies every month. Your box will include an assortment of fresh, premium candy from nostalgic favorites to popular new treats in three signature containers, plus a splash of nostalgic goodies sprinkled throughout the box.
---
Green Kid Crafts is a monthly creativity and STEAM (science, technology, engineering, arts, and math) box subscription service for kids ages 3 through 8 that provides all the hands-on materials needed to inspire creative and educational fun.
---
Naturebox
Save 50% on your entire order
NatureBox makes smart, delicious snacking easy. They deliver over 100 bold, satisfying choices right to your door and add new snacks every month so there's always something to try and discover. All of their snacks do not use artificial ingredients, high fructose corn syrup, or hydrogenated oils.
---
♥ 

MLP Box
My Little Pony merch for just $9.99 every month
MLP Box is a monthly subscription box from Brony.com that's dedicated to all things My Little Pony! Each box will feature 1-2 officially licensed My Little Pony items which can vary from subscriber to subscriber. Items can include t-shirts, hats, accessories, toys, figures, MLP books, and more.
---
Ipsy
Get a "Glam Bag" of beauty products for $10/month
Ipsy is a beauty subscription that sends subscribers a monthly "Glam Bag" full of cosmetics and beauty accessories for just $10/month. When you sign up, you take a "beauty quiz" to determine your likes/dislikes, makeup preferences, etc. This helps Ipsy learn which products to send in your Glam Bag. Each bag will contain 4-6 full sized and deluxe sample sized products from top cosmetics brands.
---
Birchbox
Get a box of beauty samples for just $10/month
Birchbox is a monthly subscription box that sends you 4-5 grooming, beauty, and lifestyle samples for just $10/month. When you sign up you take a style quiz and they send you products that best fit your profile. Both well-known and up-and-coming brands are included, all in generously sized multi-use samples.
---
Urthbox
Save $10 on your first month
Urthbox is a subscription box focusing on non-GMO, organic and all natural snacks. Every month they'll send you full size products from trustworthy brands perfect for your home, personal life or the office. Classic, Gluten-Free, Vegan, and Diet options are available. Plans are as low as $12.99/month.
---
Book of the Month (BOTM) is a subscription that sends you a new hardcover book as chosen by a panel of judges every month.
---
♥

 Fabkids
50% off your first outfit
FabKids is a monthly clothing subscription for toddlers & older kiddos (sizes 2-12). Each month you get to choose a new 2-piece outfit from the selections on their site. There are plenty of different outfits to choose from (and mix n' match) with more being added regularly, but if nothing appeals to you (or your little one), no problem! — You can totally skip a month… or two… or as many as you'd like.
---
Le Tote
50% off first 2 months
Le Tote is a clothing rental service that sends customized boxes of amazing fashion shipped to your doorstep. Wear, return and repeat! Starts at $39/month.
---
♥

 Julep
FREE 12-Piece Nail Polish Collection with new subscription
Julep is a monthly subscription box for nail polish and other beauty products. Their polishes are great quality and come in a TON of fun colors. They allow you to customize your box as much as you want, as well as skip a month or send your box to a friend whenever you choose.
---
♥

 Try the World
Try a Snack Box for just $4
Try the World is a subscription service that invites your taste buds to explore a new city every sixty days. Each box will include 7-10 locally made/grown gourmet goodies as well as cultural finds — such as music playlists and movie recommendations — produced in the city being featured.
---
♥

Kiwi Crate
50% off 1st month of any box in Kiwi Crate family
Get 50% off your first month (making the first box just $9.95 shipped)! — Just use coupon code KIWI2017 at checkout. This is good on ALL of their brands — Koala Crate, Kiwi Crate, Doodle Crate, Tinker Crate, and the new baby box, Cricket Crate!
---
♥ 

Sleek Treat
50% off your first box
Sleek Treat is a subscription box that sends an assortment of sugar-free treats to your door every month. Each box will contain a selection of 5-8 sugar-free, low cal, & gluten-free items such as chocolates, cookies, hard candies, jellies, chewing gum, and more.
---
Starting at just $3 per month, The Forgettables sends you premium and sustainable cleaning and healthcare products in recycled shipping packaging right to your door. Never forget to pick them up at the store again! Find toothbrushes, dental floss, dish sponges, Scrub Sponges, dish towels, brushes and more!
---
Bean Box
50% Off First Month
Bean Box is a monthly subscription box that features coffee from Seattle's top-rated coffee roasters. Each month you'll receive four 1.8 ounce bags of whole coffee beans — enough for about 15 cups — sourced from the city known for its coffee obsession. It's super fresh too! Every box is shipped within 48 hours of roasting.
---
Bulu Box
First box $5.99 or 3 months for $20
Bulu Box is a monthly subscription box that introduces you to new health, nutrition, and weight loss products. Each box contains 4 to 5 premium samples from a wide range of top brands. Since supplements and weight loss products can be pretty pricey, this is a great box for those who like to "try before you buy".
---
Monthly Sunglasses Club
2 pairs of sunglasses for just $10 every month
Every month receive various styles of name brand sunglasses. The same ones you would have to pay $20-$30 each in stores, delivered right to your door. Styles will vary from pair to pair. Aviator, sport and more.
---
Mini Monthly Mystery Box of Awesome is a subscription box that delivers an assortment of fun "mystery items" every month.
---
Target Beauty Box
$30+ in beauty products for only $5
Must-haves. Can't-live-withouts. Obsessions. In this box, you'll find beauty favorites that totally win our vote.
---
♥

Hollar
FREE $2 credit
Not a subscription, but a good deal! 1000's of new items at 50-90% off. Many just $2 each and you get FREE shipping on your first order!
---
♥

Schoola
FREE $10 credit

Schoola is a great website that sells gently used kid's (and adult!) clothes at super discounted prices. The best part? All of the clothes are donated and a portion of every sale goes towards funding schools.
Not a subscription box, but a great deal nonetheless!
---
A subscription box that sends you a selection of organic/natural handmade bath & body products every month.
---
Kids' Candor
Save 50% on your first kit
Comprehensive educational subscription boxes that encompass games, original bilingual music, dual language activity materials, books, toys, and easy-to-use guide cards.
---
Le Parcel
50% off your first month
Le Parcel is a monthly tampon subscription box.
---
Full sized deluxe lip products delivered every month.
---
Winc
Save $20 on your first subscription
---
World Book Reading Club empowers and enables parents to create a literacy-friendly home in an affordable and exciting way. Geared for ages 5 – 13, World Book delivers the perfect books for your child's age and reading level.
---
Looking for more Cheap Subscription Boxes?
Be sure to check out my complete list of FREE Subscription Boxes, Subscription Boxes Under $15, Subscription Box Coupons and Latest Deals. Perfect if you want to try out some new monthly subscriptions but don't want to pay full price. You can also find savings for new boxes in most of my subscription box reviews.
---
*Make sure to read the terms on each company's site for further info on each offer. Most of these subscriptions can be cancelled after the first month, just make sure to do it before being charged! I am NOT responsible for any billing disputes, nor do I wanna hear about it. F'real. I'm just sharing the cheap subscription box love. 😉