Dia&Co is a plus size clothing subscription box that sends you a collection of hand-picked garments for you to try on in your own home.
Upon signing up, you'll fill out a detailed survey about your style, likes/dislikes, budget preferences, and fit (they currently carry sizes 14-32 or 0X-5X). A dedicated Dia Stylist will then hand-pick five garments just for you from their inventory of top brands and up-and-coming designers. You'll have five days to try the items on in the comfort of your home, then you can keep what you love and send back what you don't. They only charge you for the items you keep. Dia&Co always covers shipping both ways, and you can cancel or pause your Dia Plan at any time.
Disclosure: I received this box for review purposes. I was not compensated in any way. All opinions are my own. Post may contain affiliate and/or referral links.
Each box will require a $20 styling fee upfront, which will then be applied to anything you purchase. Actual clothing prices will vary based on the pieces you're sent. If you choose to keep all 5 items, you'll receive a 25% discount. — For a limited time, you can get your first $20 styling fee waived! No coupon code needed.
Let's see what's in my November 2018 Dia&Co box!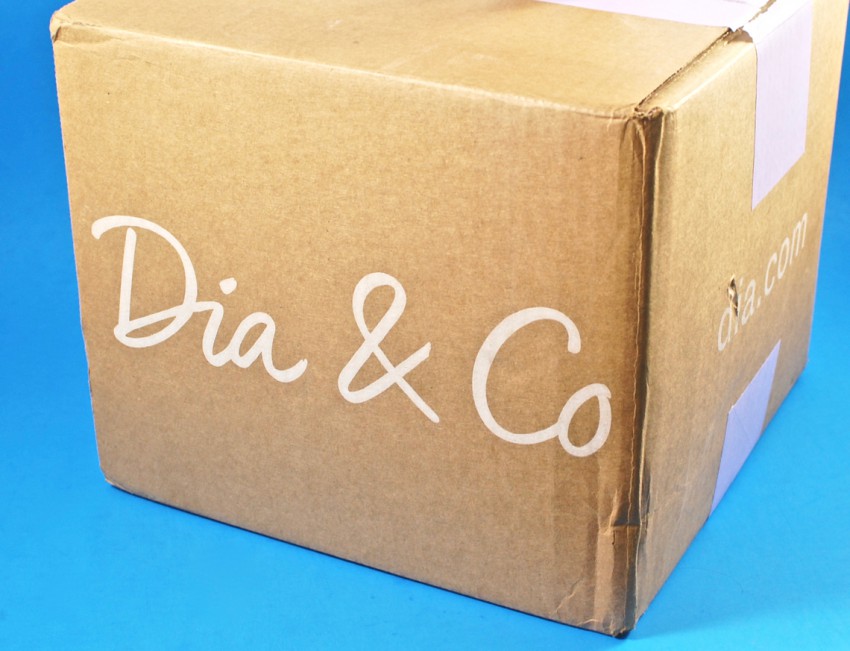 Everything was shipped in a small (but heavy!) brown box with the Dia&Co logo on the side.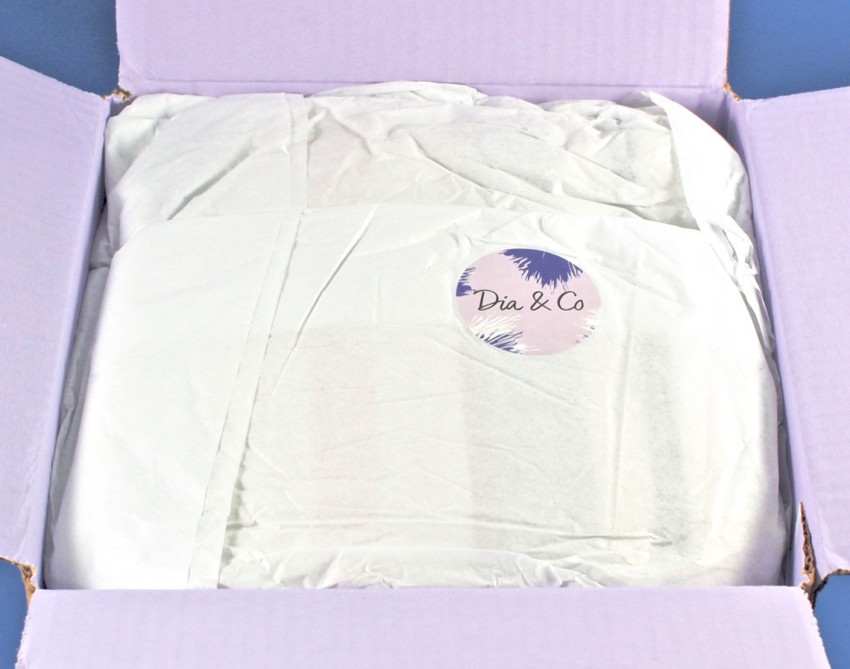 A peek in the box!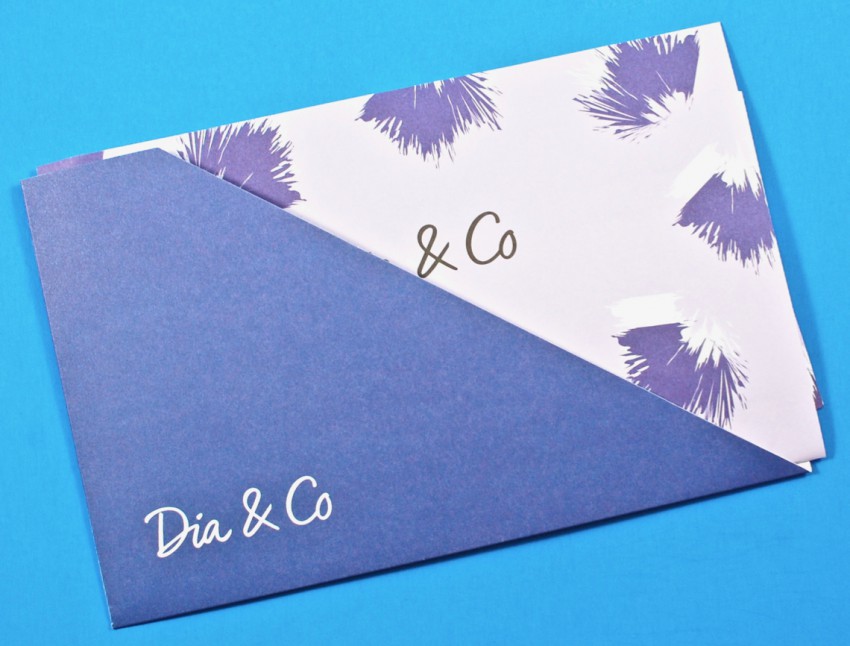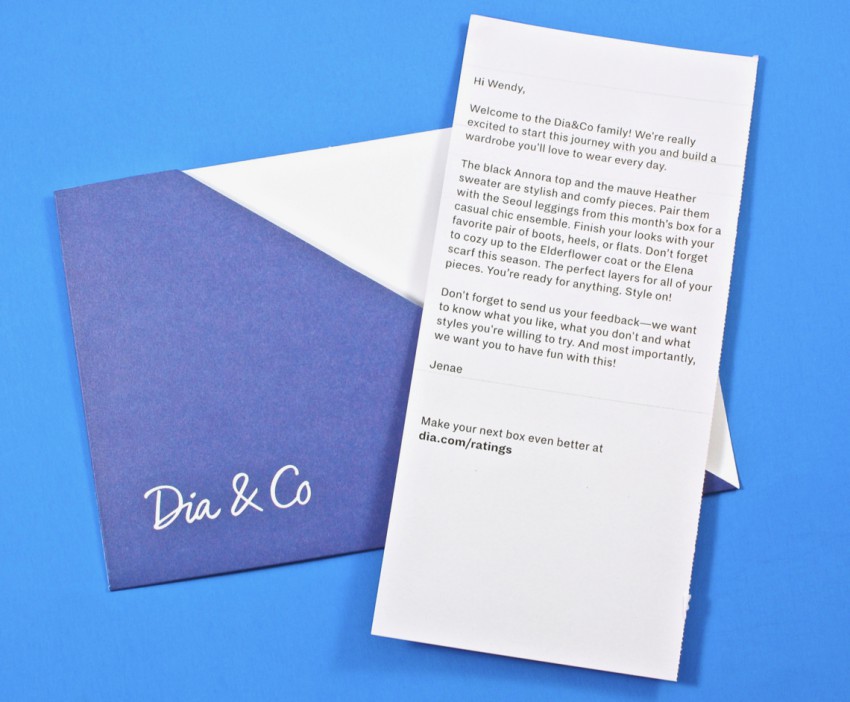 Tucked inside of a purple & white envelope was a welcome note with a few style tips from my Dia&Co stylist, Jenae.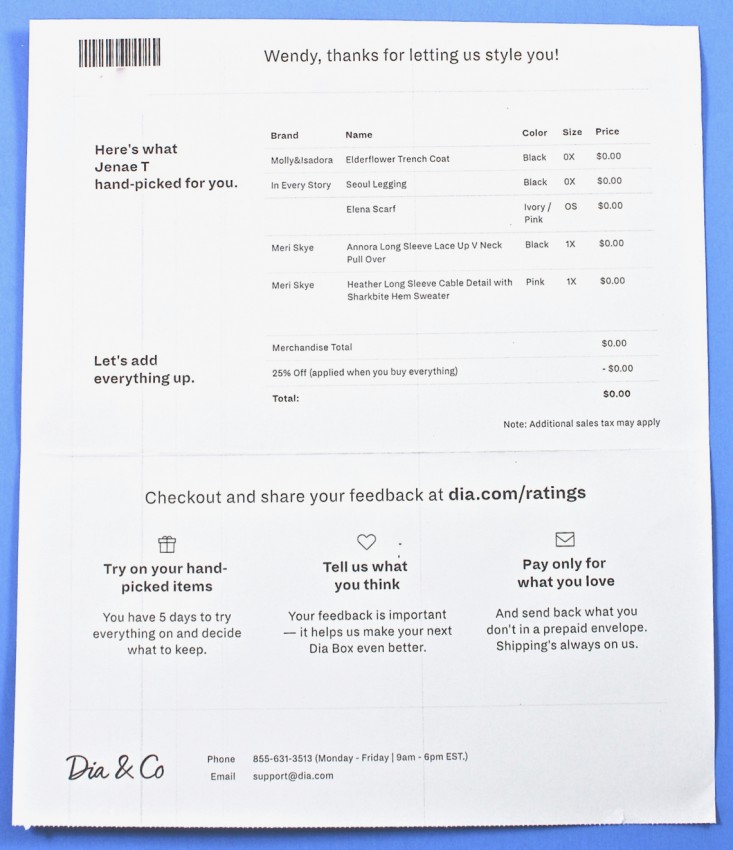 Also enclosed was a packing slip that listed all of the items that were hand-picked just for me. Normally it would also list the prices for each piece, but since I was sent this box for review the prices were left blank. — However, I was given the details via email and the total value of this box would have been $272. If you were to keep all of the items, you would receive a 25% discount bringing the total cost down to $204 for all 5 pieces.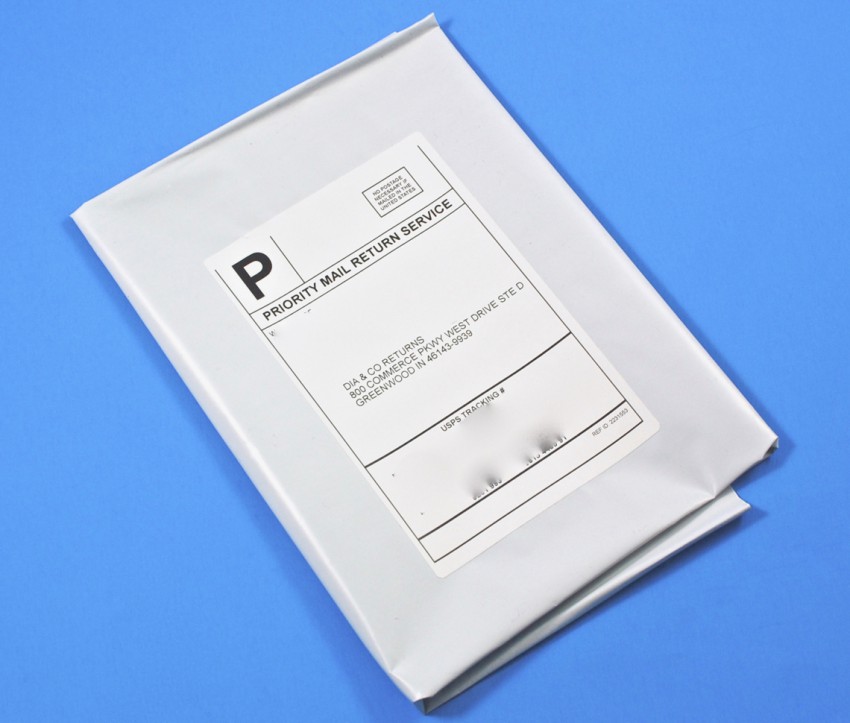 As mentioned before, Dia&Co covers shipping both ways. If you receive any pieces that aren't a good fit, simply send them back in the provided pre-paid shipping bag.
Onto the clothes!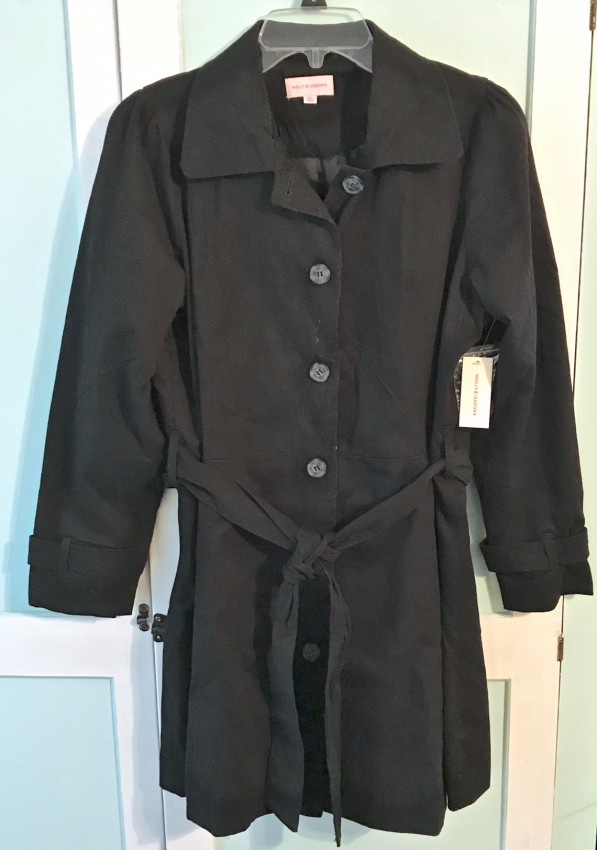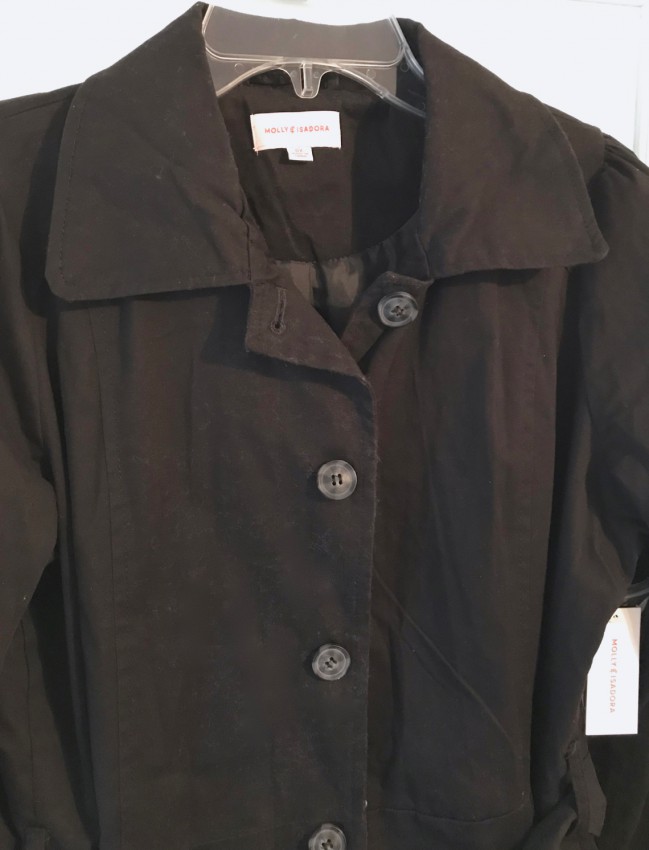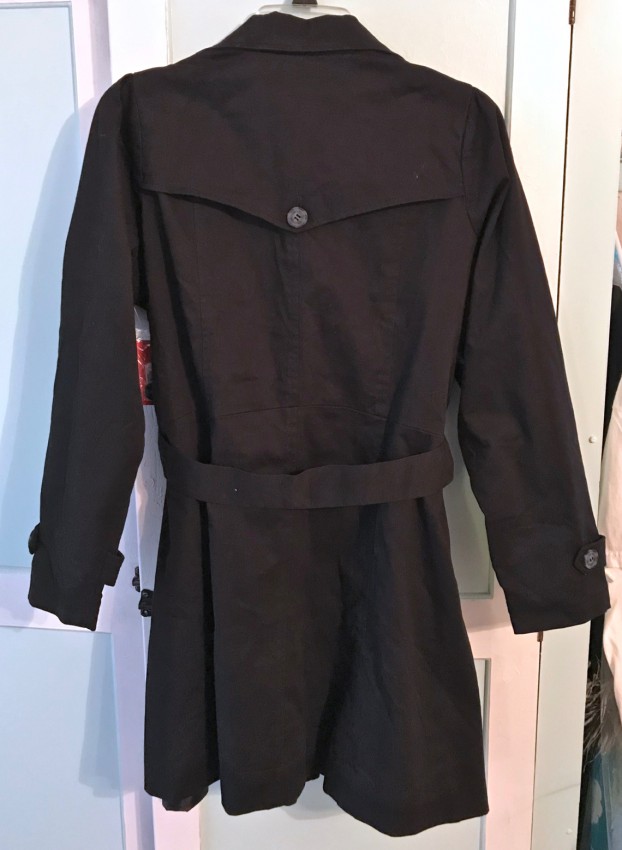 While I'm not actually in the target demographic for this box, they still absolutely killed it when it came to choosing items that fit my personal style quiz. This black trench coat is absolutely something I would have picked out on my own. It features a traditional button-down front, side pockets, long sleeves with button details on the cuffs, and a belt that ties in the middle. Perfect for adding a lightweight layer to your look, or for a bit of warmth (or both!). Note: The photos were lightened a bit to show the details of the coat. It's a LOT blacker in person. 😉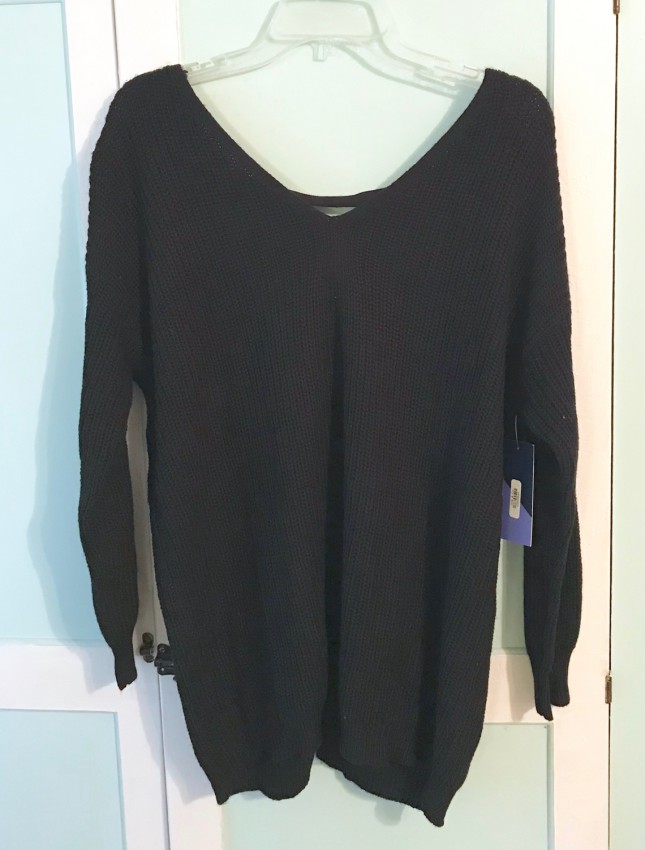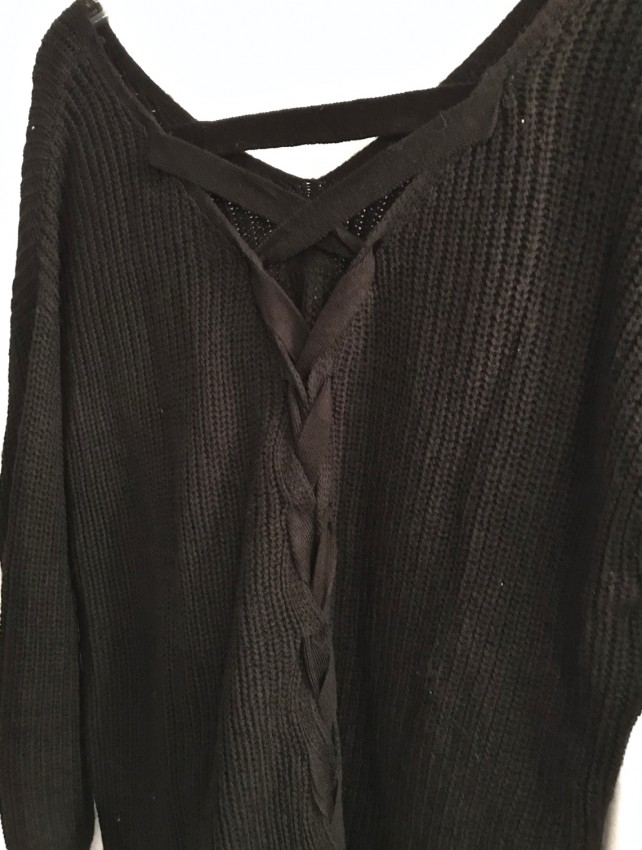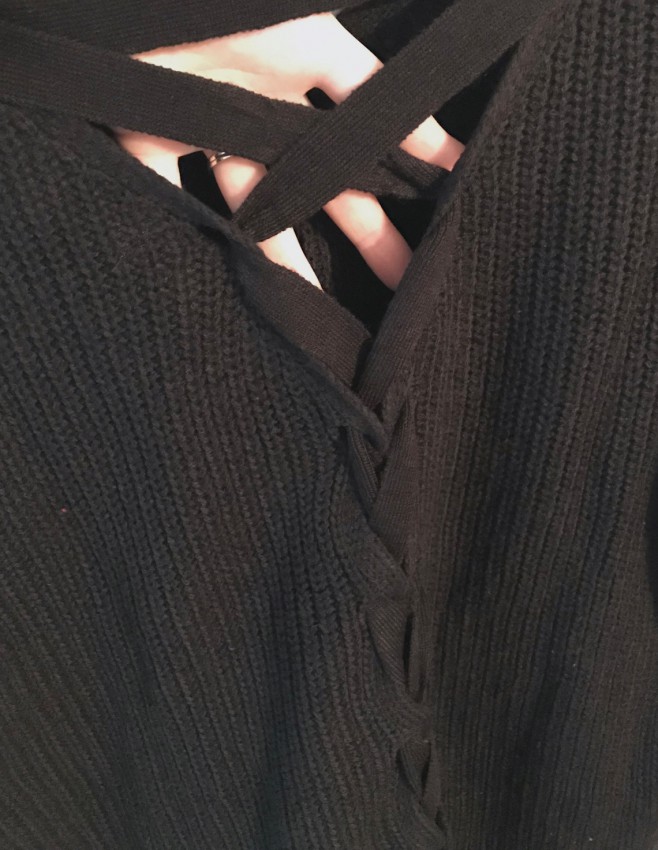 Can you tell that I'm a fan of the color black? 😉 Again, these photos were lightened to show detail. (I don't want anyone to think Dia&Co is sending out faded/used clothing!) With that said… How CUTE is this sweater?! My wardrobe is at least 95% black, so the color was already an instant win, but then they went and added that pretty lace-up detailing on the back. The result is a super versatile piece that can be both dressed up or down.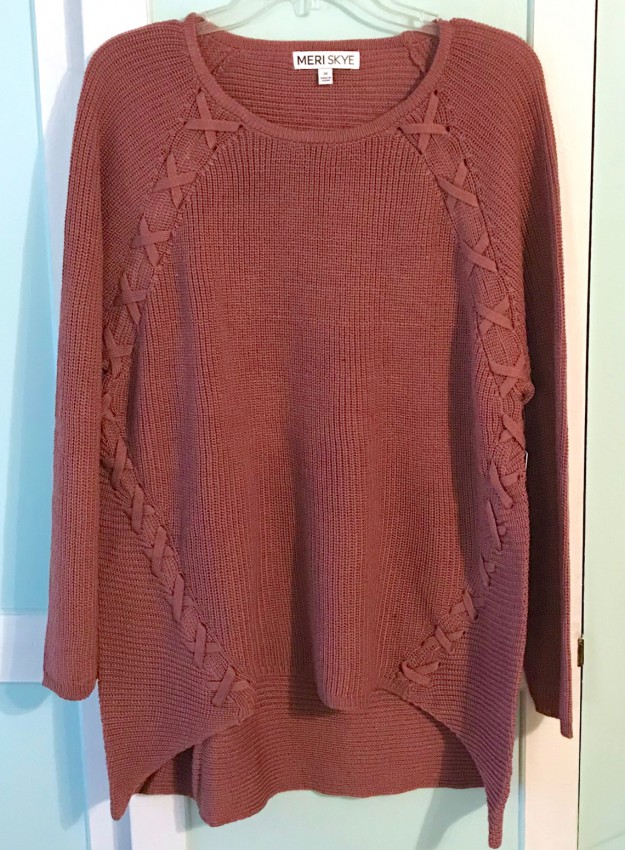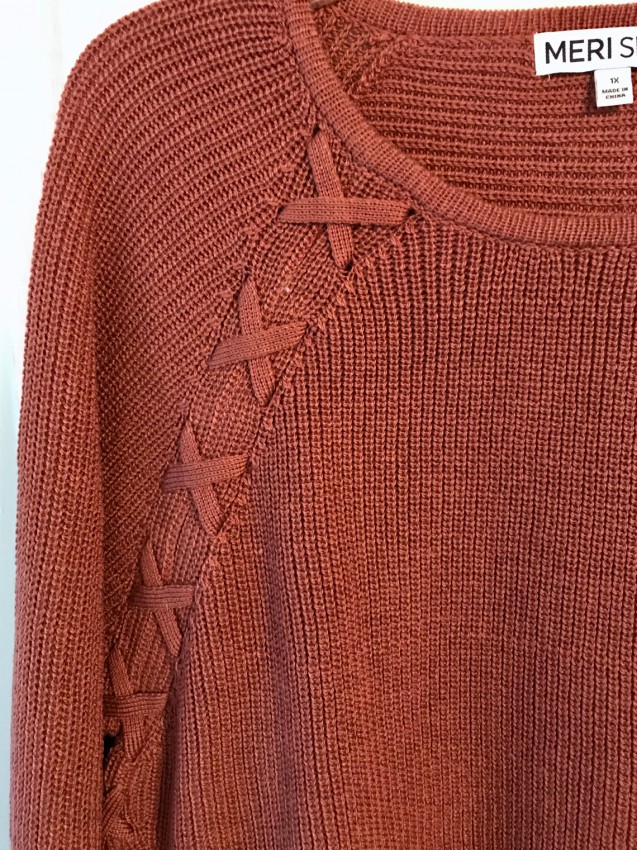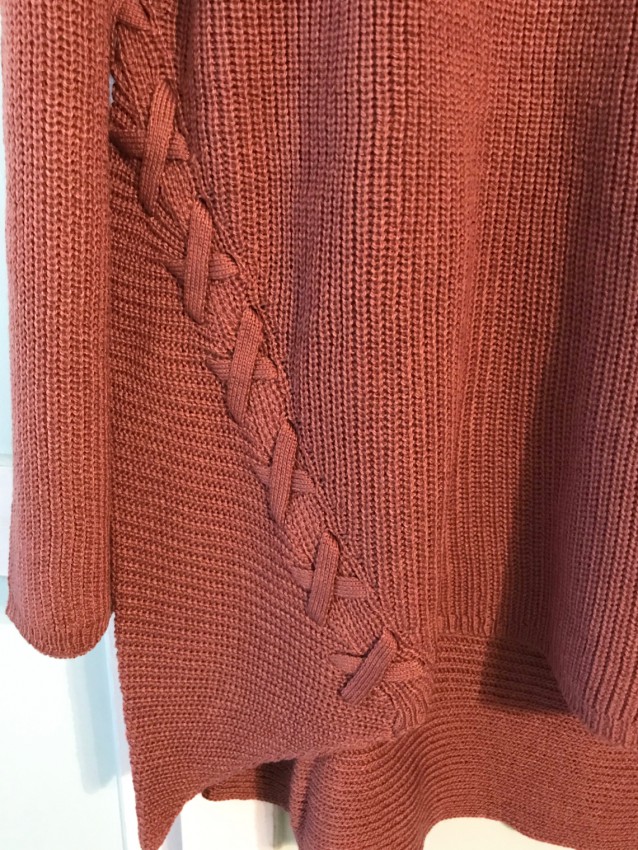 Another on-trend sweater from Meri Skye, this piece features more fun details like the one above it. The pink/mauve shade allows the criss-cross detailing on the hems to really stand out and give it a more feminine vibe. It has full length sleeves, a classic crewneck neckline, and a distinctive "sharkbite" hemline at the bottom.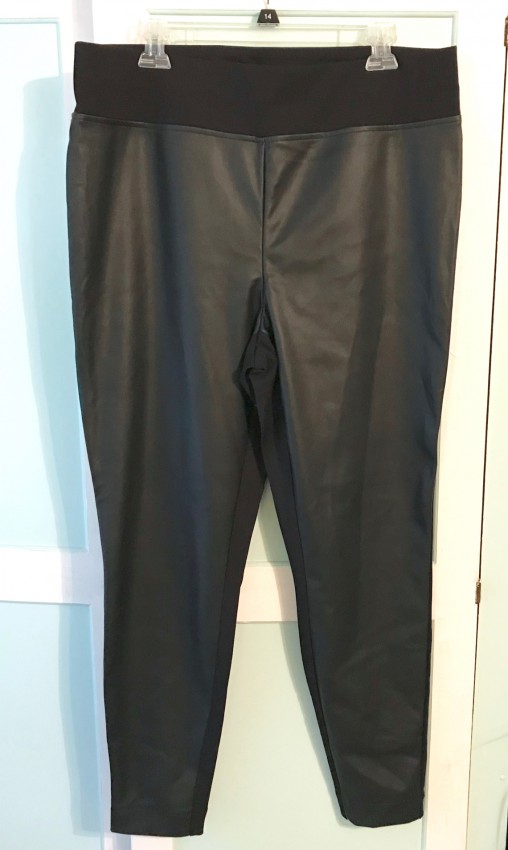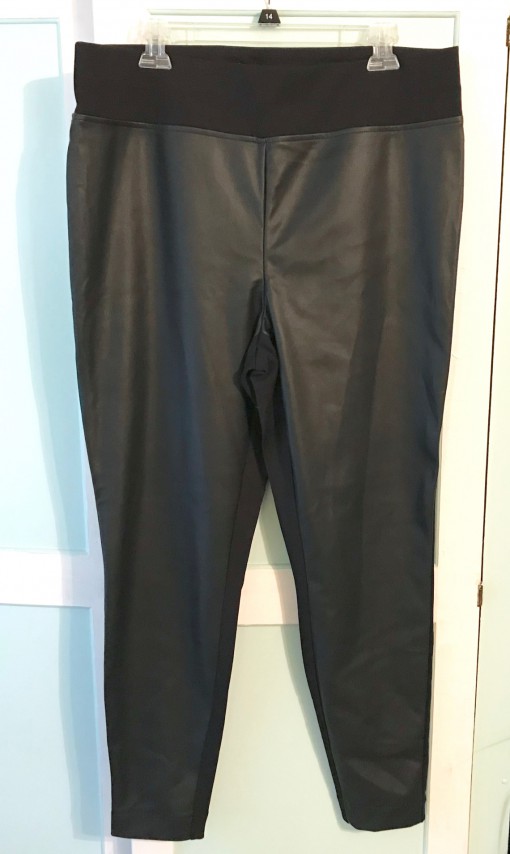 More black! These solid black In Every Story leggings are sort of like two pairs of leggings in one. The front features a faux leather look, while the reverse side is your standard "regular" legging material. It has a wide waistband with a bit of stretch for a comfortable, not too loose fit.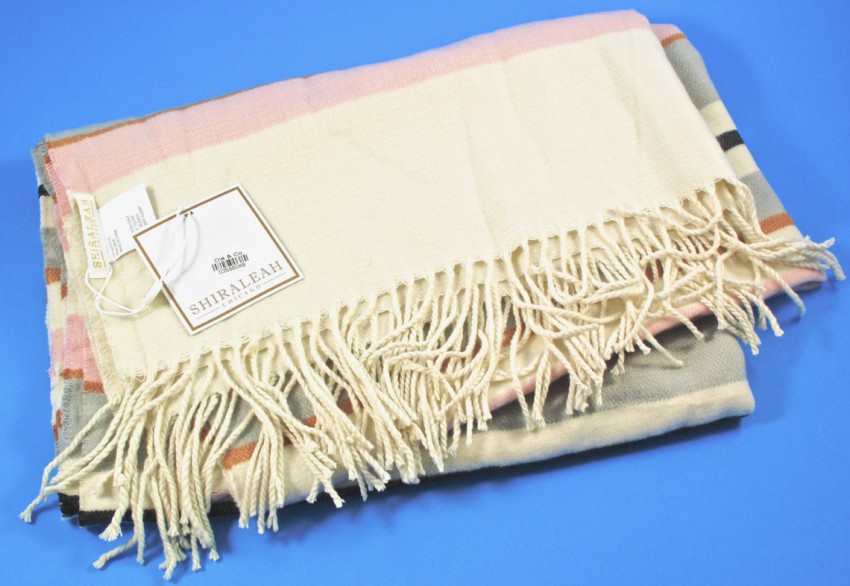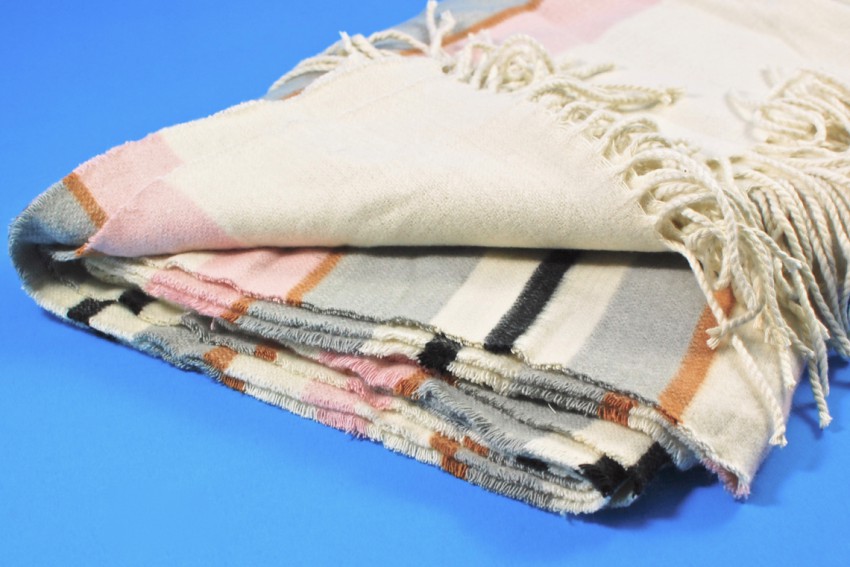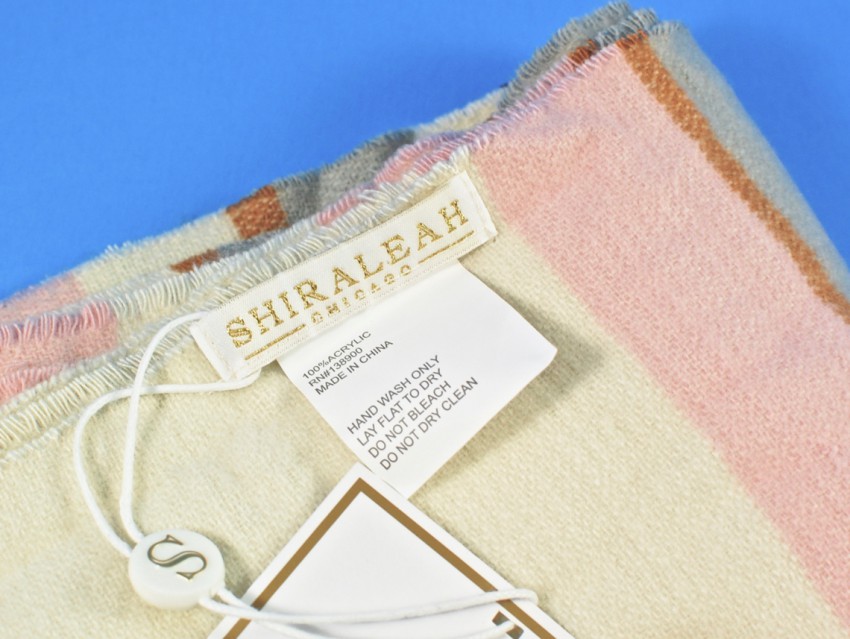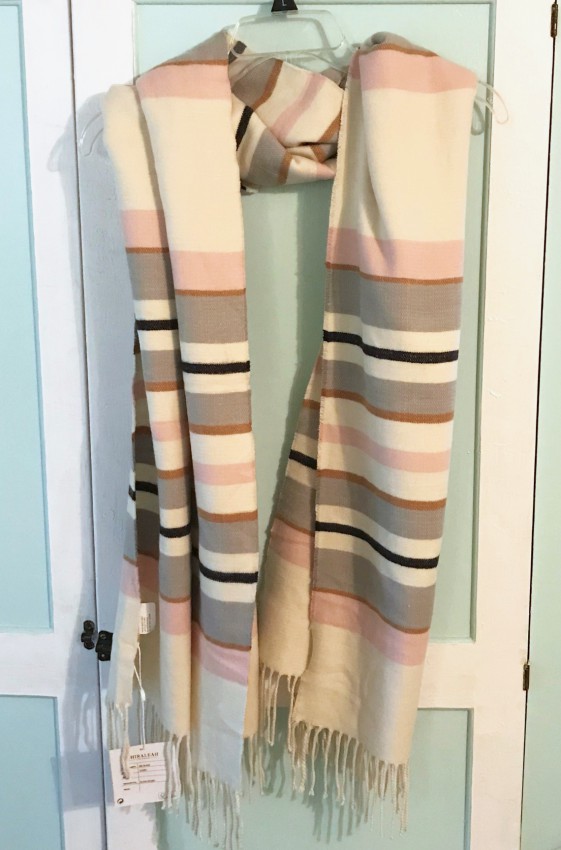 This oversized scarf is SO cozy and perfect for the cooler weather that has arrived. It features an ivory, pink, gray, black and gold color scheme with ivory fringe detailing on the ends. It actually gives me serious Neapolitan ice cream vibes, which certainly isn't a bad thing. 😉
---
Dia&Co did SUCH a great job selecting pieces that fit my style profile. Despite not fitting into their target demographic, I was nevertheless pleased with the items they sent and felt that everything was absolutely "on trend". I know there's still a stereotype out there that plus size clothing is less fashionable, but I didn't see that being the case with Dia&Co at all. 🙂 — Remember, for a limited time, you can get your first $20 styling fee waived and try Dia&Co for free! (No coupon code needed.)
November 2018 Dia&Co Review
Summary
Dia&Co is terrific subscription box that allows you to build your wardrobe with stylish pieces from the comfort of your home. Their stylist did an awesome job selecting pieces to match my style profile and I love the fact that they offer free returns and/or exchanges on items that don't quite fit -- literally, or personal style-wise. 🙂
What do the stars mean?
★ = Crummy ★★ = Just Okay ★★★ = Good ★★★★ = Awesome ★★★★★ = Extraordinarily Awesome
More Women's Clothing Subscriptions